Winter is here and that means different things for different regions of the country. From Florida to Maine, from Southern California to Washington State, each state offers its unique take on winter sports and entertainment activities. You can't do them all, but to help you plan your winter fun, we've put together a list of some of the best winter activities in the country. Let us know what your favorites are in your neck of the woods. Have fun, stay safe, and keep warm this winter!
1. Downhill Ski Four Mountains at Aspen Snowmass
There's no better thrill than the adrenaline rush you feel when you're getting ready to slide down an elevated mountain top. The sensation of being covered in snow as you swing from edge to edge is like nothing else. Colorado offers some of the best downhill skiing slopes in all price ranges. Many people like to head to Aspen Snowmass because they can visit multiple slopes in nearby cities at once. This particular region has four different mountains: Snowmass, Aspen Highlands, Buttermilk, and Aspen Mountain. Not to mention, Aspen is a town with over 80 cafes and restaurants to enjoy.
​​[Aspen Snowmass]
2. Cross-country Ski Across the Winter Wonderland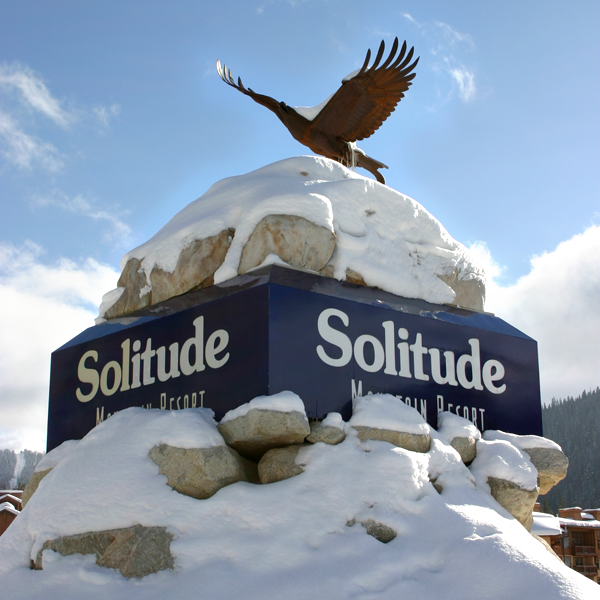 Cross-country skiing, also called Nordic skiing, is a different form of skiing that provides a greater challenge. With downhill skiing, you can only go down the mountain. However, cross country skiing allows you to go through a variety of terrains in any direction. Solitude Nordic Center is a 10,488 feet mountain located in Big Cottonwood in Utah. It's the snowiest canyon in the world, with 130 inches of snow in a month. This resort features 82 different runs that span over 1,200 acres for skiing, including some of the most sublime terrain in the country. There are many lodging resorts for you to take your family on this snowy getaway.
3. Enjoy Sleigh Rides on the West Coast

Enjoy the winter scenery by sleigh riding at one of the most beautiful mountain resorts in the country. At Mountain Springs Lodge in Leavenworth, Washington, you can go horse sleighing rides and live out a winter fairytale. There's nothing like enjoying a two-horse sleigh ride across open meadows of snowfields around the babbling waters of Beaver Creek. While you're there, enjoy a hot spiced cider and an open fire after. Rides typically last between 1 to 2 hours, so you'll receive a full tour around the mountains. The resort also offers other fun winter activities like snowmobiling, zip-lining, and horse riding.
4. Try Dog Sledding Down the Alaskan Peaks
If skiing or snowboarding isn't your cup of tea, try dog sledding instead! Imagine dashing through the wilderness in Alaska being pulled by a dozen fluffy huskies. There are many dog sledding tours in Anchorage, Seward, Girdwood, Fairbanks, and Denali. Take a vacation to experience these athletic dogs' trek through the Alaskan terrain. Every March, there's a 1,150-mile race that runs from Anchorage to Nome. Ididaride offers unique helicopter dog sledding tours, where you fly by helicopter to the top of the Alaskan Glaciers before dog sledding down with champion huskies. You'll get a chance for photo ops as you trek through the towering peaks, and guests can play with these adorable puppies after.
5. Ice Skate in Yosemite National Park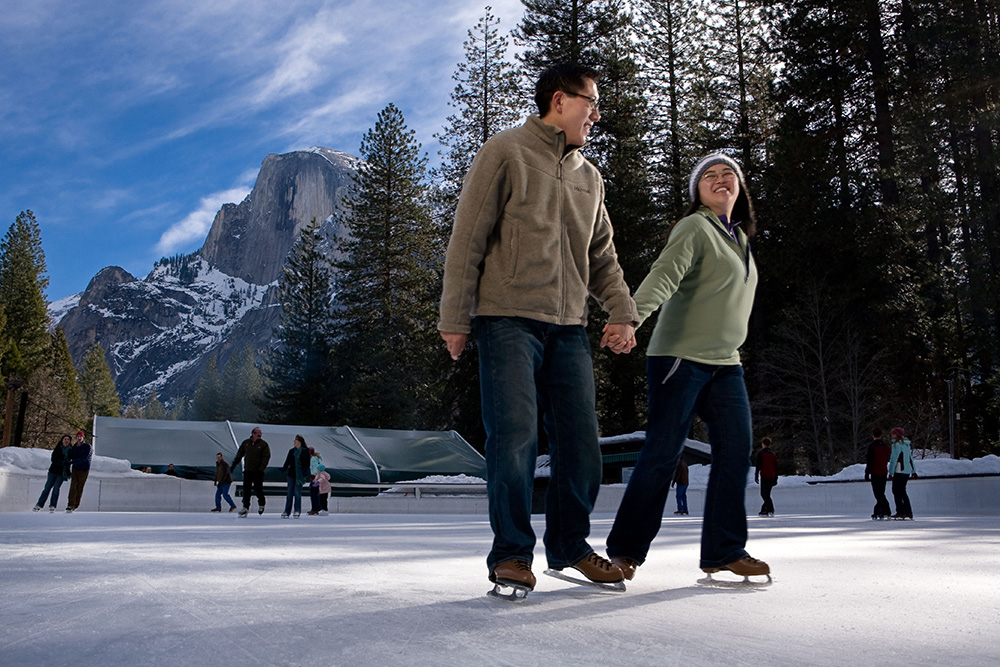 You don't have to be a world-class figure skater to enjoy ice skating. There's no better time to glide on ice than the winter months. Rather than ice skate in a boring indoor rink, why not ice skate in the beautiful outdoors of the Yosemite National Park? This park covers a wide area of 759,620 acres. There are many scenic views in mountains, lakes, clear streams, waterfalls, granite cliffs, glaciers, and more. The Curry Village Ice Rink is a fun, family-friendly outdoor skating rink located in the heart of the Yosemite Valley. Once you finish ice skating, you can enjoy the views of the Half Dome and the cozy firepit.
[Ice Skating | Yosemite National Park]
6. Zip Around the Wilderness with a Snowmobile in Yellowstone National Park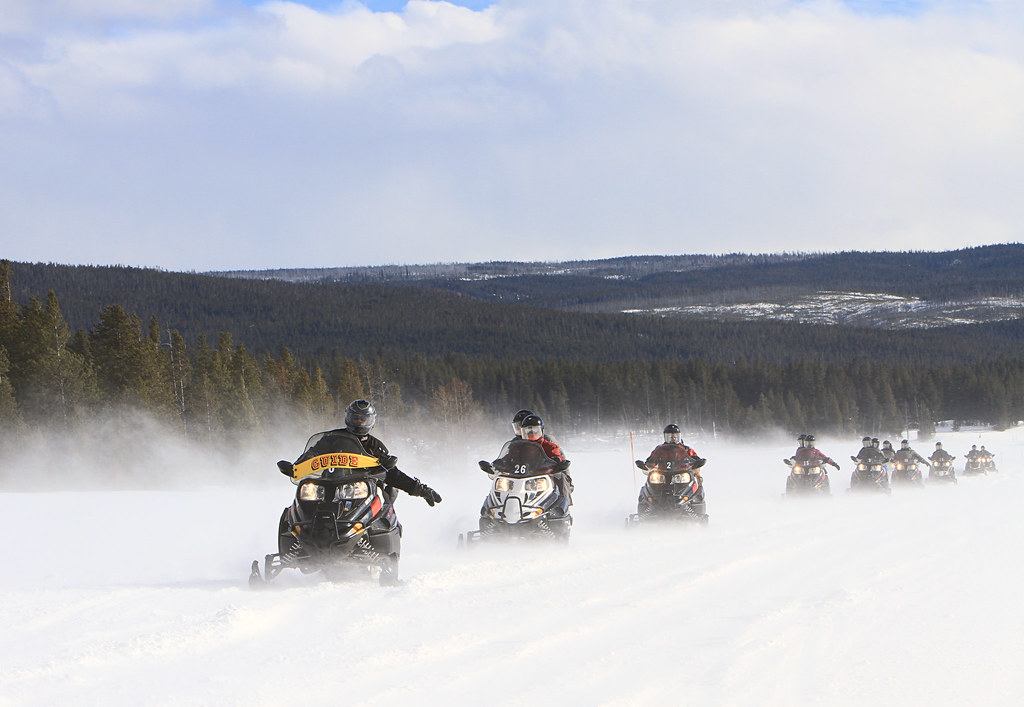 Combine two fun activities and you get an adventure that creates everlasting memories. Snowmobiling is fun, but at Yellowstone National Park, you can enjoy breathtaking views and see wildlife that you won't see elsewhere. Yellowstone National Park is a 2,219,791 acre park located in northern Wyoming that elevates to 8,104 feet. During the winter, guests can access the park by way of guided snowmobile tours. As a visitor, you can get a glimpse of unique wildlife species such as wolves, bison, elk, and grizzly bears.
7. Enjoy a Nice Soak at the Best Hot Springs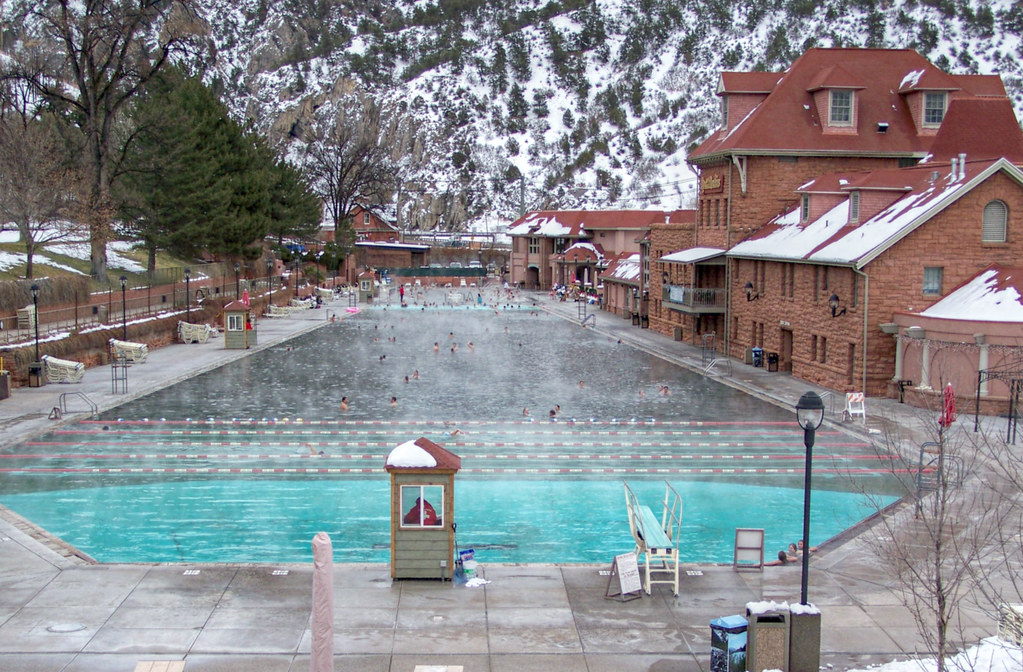 There's no better time to soak in hot springs than the winter. It's fun to relax in the hot springs while watching snowflakes drift off around you. Hot springs are composed of the earth's most natural minerals. They are proven to have plenty of calming and health effects, such as promoting better sleep, weight loss, increasing blood circulation, and even healing. At the Glenwood Hot Springs, they have 107 guestrooms and offer the largest hot spring pool in the world. The resort also features a full-service menu of body and facial treatments such as massages, pedicures, and manicures. Enjoy an oasis of relaxation and comfort with the services of Glenwood Hot Springs!
8. Go Ice Fishing in Lake Erie

Upgrade your fishing experience by angling in the frozen lake! Ice fishing feels like a tailgate that takes place on a frozen lake. On Lake Erie, you can find some of the best fish species in the winter, such as walleyes, steelheads, smallmouth bass, yellow perch, northern pike, lake whitefish, and more. The South Bass Island on Lake Erie is one of the best spots for ice fishing, and visitors can take an island air taxi to get there. Guests can also stay at Port Clinton, a bed-and-breakfast resort.
9. Ice Climb on the Man-made Ice Fortress in Colorado
If you're an adventurer, it's likely that you'll enjoy ice climbing. The Ouray Ice Park is a human-made ice fortress built in a spectacular gorge. It's a public park that houses over 100 ice climbs for visitors to enjoy. If you're in town between January 20 to 23rd, you can also compete or watch the Ice Festival and Competition. Not to mention, there are many lodging resorts to stay in, along with breweries, restaurants, and cafes to visit.
10. Walk Around the Gorgeous Central Park in New York City
Stroll around the gigantic urban space of Central Park in New York City. This massive park covers 843 acres and is the most visited urban park in the country. Enjoy a day of fun activities at Central Park such as horse and carriage tours, biking, picnics, concerts, boating, and occasional concerts. On any given day, the park will feature a wide array of unique group activities for guests to join, such as group yoga, a 5K fun run, penguin or sea lion feedings, scavenger hunts, and more. Additionally, you're just minutes away from one of the world's most popular shopping streets, 5th Avenue, and other cool tourist attractions like Times Square.